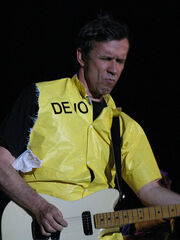 Bob Mothersbaugh Jr. (born Robert L. Mothersbaugh Jr., August 11, 1952 in Akron, Ohio) or "Bob I" is the lead guitar player and occasional vocalist for Devo, and brother of lead vocalist Mark Mothersbaugh. He is also part of the music production company Mutato Muzika. In early shows he performed as the "Clown", his nickname.
Discography
[
]
Equipment
[
]
(partial list)[1]
Gibson L6-S Custom
La Baye 2x4 "Six" (and signature 2x4 re-issue)[2]
Ibanez "Spud" Custom (Potato/Blue Cloud)
G&L SC-2
Chopper "Spudocaster" Custom 'Bob 1' Devo signature[3]
Gibson Les Paul
Further Reading
[
]
Premier Guitar. (2010-9-21). "Devo: Bastardizing the Blues" by Kent Carmical.
The Sydney Morning Herald. (2016-3-19). Business Day section. "Bob Mothersbaugh underscores variety of work available for musicians" by Linda Sim.
References
[
]
External Links
[
]